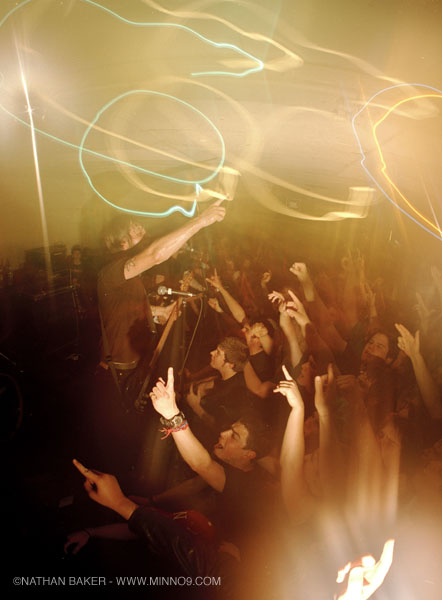 Saturday I had the great pleasure of finally seeing Against Me! when they opened up for Alkaline Trio at the Quest. It was sold out and crowded and full of people who made me think I was too old, but I had a blast nonetheless.
Against Me! is simply marvelous. A few years ago when I first heard them, I was instantly in love. Only a few bands will come along and reinvent music as I have come to know it. Against Me! has done that a few times over. I still can't put them down. They are honest and energetic. They also hail from Gainesville, FL which has produced some great, great music, though Gainesville is nothing worth talking about. And the whole state of Florida can be avoided.
Check out these great Pics of Against Me! by Nathan Baker.
Alkaline Trio pleasantly surprised me. They must have played for almost two hours. Considering the length of most of their songs, they probably played every song they have ever written. I was surprised because it had been a long time since i had visited the town of Alkaline Trio and thought I would be lost in their new face of albums. But they began with playing the whole Goddamnit album, an oldy and goody. Then they played a fairly long acoustic set. Then they just went through various songs from all types of places. They did some covers. They rocked our faces off and without passing out.
It had been awhile since I had been to such an energetic show. I was hot and sweaty and somewhat uncomfortable by the end of it, but not without a great big smile.
Later that night, I headed over to the Turf Club and saw Essex Green. And they just played with lots of heart and soul and I even did a little dancing. A great night that ended up with myself passing out on Mary's couch because the Gin and Tonics went down too smooth.