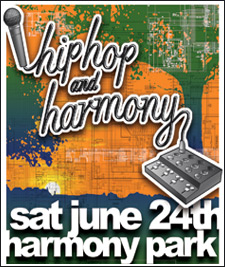 Yesterday, Cole and I went down to Geneva, MN to the First Annual Hip and Harmony Festival at Harmony Park. Most of the artists are from around these parts (Minnesota). Almost all the acts were exceptionally wonderful. I was really excited in the first place, but my expectations were blown away.
Black Blondie was the first band we got to see and we came in half-way through their set. As if having a female cello-player (or upright bass, is there a difference) was not enough, those women singing were on point.
Unknown Prohpets: I knew very little about these guys before coming in, but they were solid. They had a good attitude and they were the ones playing when the tornado-ish storm came along. Also, their DJ wore a 90210 shirt and mixed White Stripes and Living Colour really well. www.unknownprophets.com
Kanser was well-formed. They had a great message and a great time. Interlock Records
Omaur Bliss and Yoni: I do not appreciate the use of someone's name to be the title of a band, no matter how prevelant he or she is to creating the music. It is selfish and boring, especially when you have a band that tears it up. They had smiles and fly girls and Yoni. Another great performance. yonimusic.com
Toki Wright was solid but nothing to write home about. He was a good host for sure. www.tokiwright.com
Doomtree was amazing! Its more of a collective than an actual band. Its more of an energy than a sound. Everything that is said about this group positively is true, without a doubt. They were a huge highlight of the day. Doomtree
Heiruspecs: I have to admit at the festival I was not wholly impressed, but seeing them tonight at the New Gutherie, these are some good cats. They got a full band and two amazing vocalists. www.heiruspecs.com
Sage Francis: Wow!! I thought highly of him before but his live performance was unbelievable. He opened with Jah Didnt Kill Johnny, which is one of my favorite songs. I have seen some performers just use a CD and a microphone and it can be done, but Sage just ripped it up as if he had twenty people behind him. The CD player actually helped because it made his performance simple. He spent a lot of time just spitting out rhymes with no music behind it at all. And he had the fire in his eyes the whole time. www.sagefrancis.net
Lyrics Born kind of sucked and was disappointing. He had a lot of energy and was probably a good choice for a headliner but I just wasn't feeling it. Maybe it was the casual-Friday, collared shirt. www.lyricsborn.com
Please note, I am not a music critic but I'll let you know my opinion. Also, Some of these artists only have websites in the form of a myspace page. I do not appreciate this. I understand the monetary benefits, but damn. You can find all the pictures I took, right here. The First Annual Hip and Harmony Festival was fucking awesome. Just go next year and until then, think about why you missed it this year.